Tuesday, October 21st
I like 8 bit music videos. Maybe you've seen Golden Shower's "Video Computer System", but have you seen Junior | Senior's "Move Your Feet"? You can visit their respective web sites here and here. [Don't let the name "Golden Shower" throw you off. They're SFW (safe for work).]

Wednesday, October 15th
Stuck in my head today: Giorgio Moroder's "Electric Dreams". This is not because of the movie, but rather because Star! 93.7 FM played a kick-ass dance cover of it this morning.

Also stuck in my head this weekend: Ian Van Dahl's mix of Lasgo's "Alone", the club mix of QED's "Love Bites", and Groove Coverage's cover of Mike Oldfield's "Moonlight Shadow". Find all these songs and more on WinMX. If you're paranoid, use Earth Station 5.

Oh yeah, check out the reference section.

Wednesday, October 8th
"Sobakasu", a.k.a. freckles, was stuck in my head for weeks - IN JAPANESE! Compare and contrast the lyrics from the Kenshin version to the lyrics from the DDR version, or even the steps of the DDR version. DDR freak and Anime Lyrics are in the link section now.

Tuesday, October 7th
Origin of Phrases: Haven't you always wondered where stuff like "dead ringer" comes from?

Friday, October 3rd
I was told that clowns improve a web page: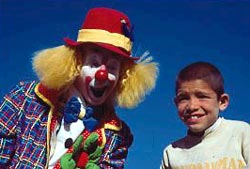 Is it working yet?

Tuesday, September 30th
Added "Clips" section.
I think this is the best techno resource on the web. Check it out.

Friday, September 26th
Created new page layout with frames.