Tuesday, June 29
Thanks to Gail for recording this movie of me swinging into the Nashua River. Thanks to Mathieu for recovering the rope afterwards.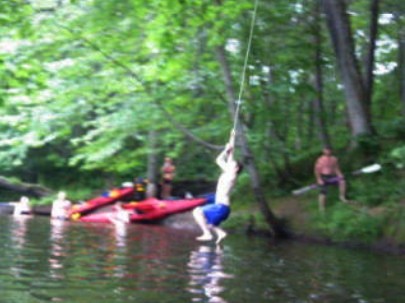 Wow. I need a tan. :P
If you'd like to kayak and jump in the river, check out Nashoba Paddler.

Thursday, June 24
By request, this is my new car (click for full image):




It has a "Sky View" roof, which is like a sunroof turned sideways. :)
I have not got a speeding ticket.
Yet.

Friday, June 11
I found the cover art for Katamaridamacy (click for full image). I like the giant squid.




"Pause Online" hase some really cool music videos.

"Bubble Fun" is a very addictive game with bubble wrap sound effects.

Thursday, June 3
Nice weather is here! Stop reading blogs and go outside. Better yet, grab a frisbee and give me a call.

Still reading? Oh well. Alok posed a good math problem to me last month. Have a go at it.

Thanks to Andy Baio over at Waxy for this one. Latest Japanese fad: Katamaridamacy. It is a PS2 game. The object is to roll around an ever increasing ball of junk. Furniture, people, cars and even football stadiums cling to the ball. When it is large enough, the ball is launched into space to become a new star. I really like the commercial. The Japanese web page for the game is down, but it is very cute.

Rick wrote a funny memo to his cats.

Elijah and Eileen are getting married! Woo hoo!

I remembered that there's a big convention happening in my back yard this fall. I expect to see all the Cornell Gamers there. (Juliean, Laura, Melanie, Ian, Jill, Jessie, Josh and Sara, this means you!) If anyone needs a place to crash, they are welcome to stay at our house.