Thursday, July 21
Here's a nice portrait of Mathieu, Christine, Jade and Lea at the Larz Anderson park: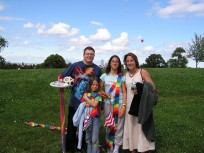 (click for larger image)
Thank you to my mom and aunt for spending time with us! Everyone had fun. :)
(To Do - Photoshop Mathieu's eyes open)

I took a picture of my new favorite T-shirt:


(click for larger image)
I like the quote from John 3:30 -
"He must increase, but I [must] decrease."
They are made by Red Letter 9. I haven't found a distributor yet. :( Check out their catalog!

Thursday, July 7
What happend to May and June? WTF?

Well, I've been dumping links into the forum. I'm a bit short on content this month.

In other news, Ryan is back from his European tour. They were the subject of some controversy:

BGMC Tour Blog
Boston Herald
Bay Windows
Prague Radio

I spent a few weeks in beautiful Tennessee. I would like acknowledge the wonderful LifeWay store across from my hotel that had the

BEST

T-SHIRTS

EVAR.

EVARRRRR!

EVAAAARRRRRRR!!!

AND EVAR!

(I can't seem to find an image of the one I purchased. I'll take a picture and post it.)

Be sure to order a matching hat.

We are also welcoming Mathieu's sister Christine and her two wonderful daughters into our home for a visit. :) Looking forward to lots of fun!