Thursday, August 23
We are back safely from Texas. Ander slept through the takeoff and landing and did not cry once. We are alternating days back at work. At the same time, we're trading off the 9pm, midnight, 3am and 6am feedings. He continues to be well behaved and scheduled, with twice-a-day fussiness attacks from 9-11am and 9-11pm.

Ander is eating so much, his mid-section is approaching spherical.

We've had a few requests for more photos. It is much harder than you might think to get a newborn to pose, so the photos will be slow in coming. ;)




Thursday, August 16
I've made a photo section just for Ander. You can find it here.

He is still being a generally well behaved baby - we only see one fussy fit per day, usually mid-morning or midnight. We are getting enough sleep, but are looking forward to leaving this hotel room behind. :-)




Tuesday, August 14
Ander was very good last night! Just like the Borg, he has adapted quickly. He didn't stay up fussing like he did the night before. He was very active during the day yesterday. If he keeps to last night's schedule, Dad and Daddy will be very happy. :-)

We went to the doctor's office yesterday. Ander has gained back all the weight he lost from birthing (10%) in just four days. Normally it takes two weeks to do this! Wow! Borg adaptability and mutant healing factor! The doctor says he is very healthy and expects additional mutant powers to surface soon.

Mathieu is reading the sixth Harry Potter book out loud. He's only five days old and getting spoilers! I hope he doesn't hold that against us.

It is hard to see in the picture, but his eyes are blue/grey.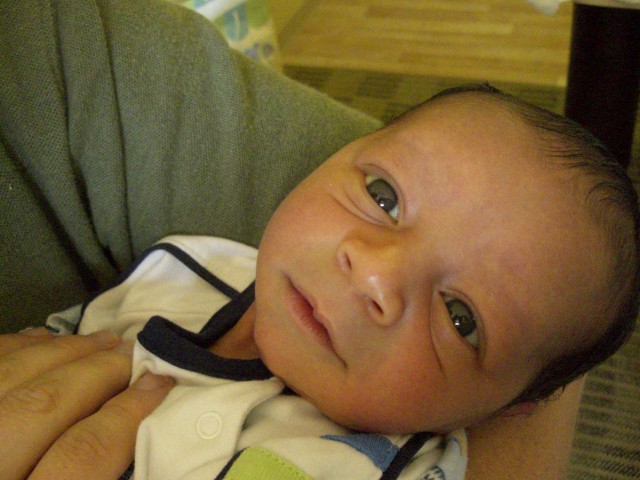 Sunday, August 12
Ander is back at the hotel with us. Ashley signed him over to the agency Saturday evening. Ten fingers, ten toes, seven pounds, five ounces, nineteen and one half inches. He scored eight points on the Apgar test. He is devouring two ounce bottles of formula every two and a half hours. He sleeps only if swaddled tightly or held. We love him very much.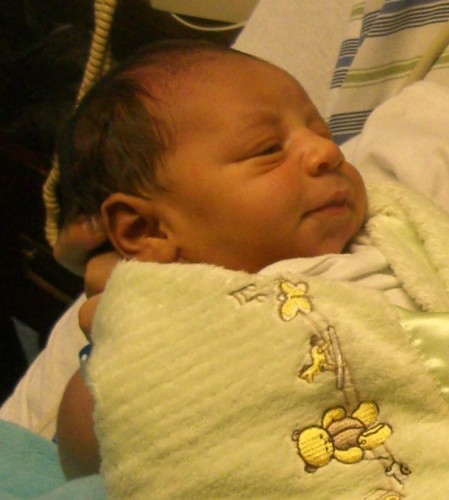 Monday, August 6
We are in Texas, settled in to our hotel.

Ashley, our birth mom, is doing well. Last night we took her out to dinner where she had 16 maraschino cherries, a quesadilla and cheesecake.

The baby is over eight pounds now and more than ready to come out. Her due date is Thursday the 9th.

We have our cell phones and access to email. We hope to have good news to spread later this week.